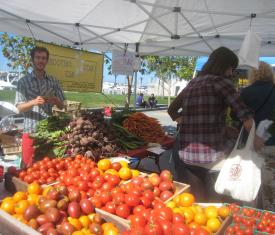 Support Local Food Today
April 4, 2012
Roots of Change
The Local Farms, Food and Jobs Act is gaining momentum in Congress. This act is being led by the National Sustainable Agriculture Coalition, an ally of Roots of Change (ROC) that is focused on federal policy reform to advance the sustainability of agriculture and food systems. This bill creates jobs and spurs economic growth through food and farms – something everyone can get behind. Please support this bill and make a phone call in support of local food.
Taking action is simple! Call your Senators and ask them to co-sponsor the Local Farms, Food & Jobs Act.
Sen. Dianne Feinstein
(202) 224-3841
Sen. Barbara Boxer
(202) 224-3553
Tell your senators: I support local farmers, and I want good food in my community. Please co-sponsor the Local Farms, Food and Jobs Act today!
To learn more about this bill, why it matters, and how to get involved, please click here.