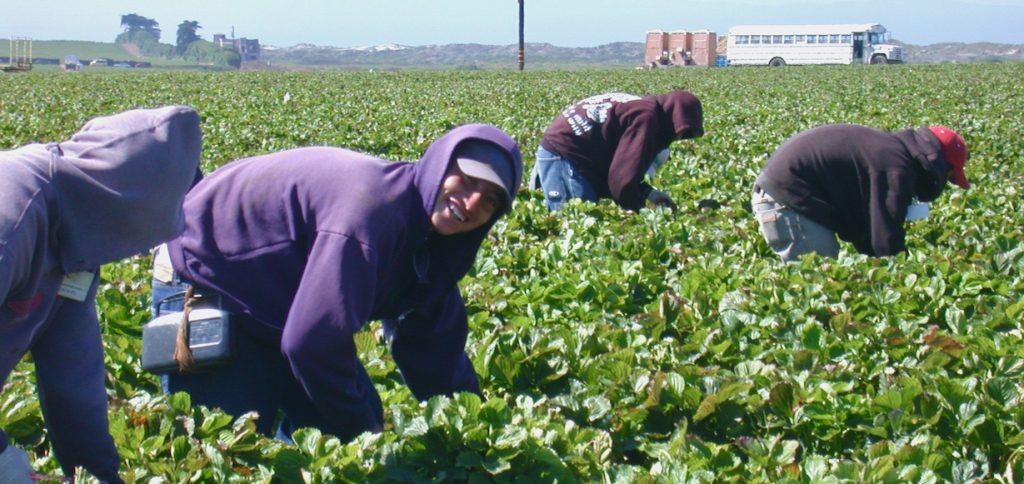 Summary
The Achieving Resilient Communities (ARC) project began along with COVID-19 in March of 2020 in Ventura County where ROC has a long history of facilitating collaboration among farmers, labor, and environmental advocates, all of whom are committed to seeing agriculture remain a thriving industry. ROC's partners in this project are  two other PHI programs, Tracking California and the Public Health Alliance of Southern California. 
This project is a collaboration with community-based organizations (CBOs) and businesses to increase resilience in the agricultural sector with specific emphasis on farmworker communities. Given the recent pandemic and the rapid and intensifying impacts of extreme weather events including fire and smoke causing serious economic damage and health issues, farmworkers and their families are placed at greatest risk.
The ARC team has held dialogs with farmworker groups, the Farm Bureau, and farmer leaders in Ventura County to define and design a series of actions to support the workforce, which is critical to continued success of farming operations. Details about specific projects that grew out of those discussions are described below, including the creation of the Ag Brain Trust in Ventura. 
Creating Agriculture Leaders Brain Trust in Ventura

Ventura County agriculture is among the most productive growing regions in the nation with a rich history of innovation and proactive leadership. Growers in Ventura have focused on utilization of beneficial insects to reduce toxic pesticides, have worked to manage limited water resources, and have proactively protected farmland from development. Many of the specialty crops in the county (berries, celery, avocados, lemons, and herbs), are extremely important to the local economy and depend on skilled agricultural workers.  
In 2019, the agriculture industry in collaboration with Central Coast Alliance United for a Sustainable Economy (CAUSE), Mixteco Indigena Organizing Project (MICOP) and Lideres Campesinas created California's first county-based farmworker resource center. Then, at the height of the COVID-19 pandemic the local agriculture industry raised millions of dollars in COVID emergency funds for farmworker families to aid with the wages lost due to quarantine and illness. They have also developed a network of county agencies and businesses that meet monthly to track challenges and support solutions. The impacts of wildfire, heat and COVID have made it critically apparent that work to support farmworkers needs to accelerate and intensify. 
In 2021, the ARC team approached the Ventura County Farm Bureau, Reiter Affiliated Companies, Brokaw Nursery, and GoodFarms who are key leaders in the Agricultural Industry about the dire need to protect the health and wellbeing of farmworkers. They agreed to partner with us to define ways the industry could add their weight and support to the project. Their perspective has provided insight into the needs of both growers and farmworkers. These advisors help ARC team members think through ways to gather more data related to heat issues at the workplace, as well as review and possibly update curricula used to educate those who manage farmworkers in the field, so they will fully respect rights and better protect workers from rising temperatures. 
ARC is also exploring several ways to bring more resources into the work of cooling workplaces and neighborhoods using public dollars. 
Listen to the our Flipping the Table podcast interviews related to this work:
Maureen McGuire

, CEO of the Ventura County Farm Bureau. The former head of the Ventura County Farm Bureau co-authored the op-ed

Resilience for farmworkers and farms key to Ventura County's future

with a member of the County Board of Supervisors highlighting their commitment to working together to protect farms and farmworkers from the increasing impacts of climate change. 

John Krist

, former CEO of the Ventura County Farm Bureau, talks about the importance of protecting farmworkers during the climate crisis

Maricela Morales

, Executive Director of CAUSE (Central Coast Alliance United for a Sustainable Economy) talks about her specific work as a social, economic and environmental justice warrior as well as her efforts in terms of positively impacting farmworkers lives that includes protecting them from heat-related illnesses.


.
Cool Water For Farmworkers: Collaboration with CalPoly San Luis Obispo

Farmworkers in California carry nearly 35 times the risk of heat-related death than the average worker in the United States. In addition, climate change is increasing the occurrences of extreme heat in the region, causing farmworkers to face increasing heat illness and death. According to an analysis by the University of Washington and Stanford University, the average agricultural harvester's unsafely hot workdays will likely double by 2050, presenting an existential crisis to the agricultural sector. 
To protect the health and well-being of farmworkers from the impacts of extreme heat employers are required to provide at least one liter of cool potable water per worker per hour. However, growers face challenges keeping water cool in agricultural fields. The typical Igloo® coolers keep water cool for a few hours on a hot day, leaving workers with only warm water to drink on hot afternoons. 
Understanding this critical shortcoming to protecting farmworkers, the ARC Team sponsored two teams of senior-year Mechanical Engineering students at California Polytechnic, San Luis Obispo (Cal Poly) to develop water cooling prototypes that can meet NIOSH recommendations to keep water at or below 59°F. Both student teams toured agricultural fields in Ventura County with Ag Brain Trust members and observed work practices. The first team focused on developing a lighter-weight, portable prototype to meet the water-cooling needs of 2-4 workers in smaller-capacity operations. The second team created a larger prototype that could be integrated into in-field equipment with water cooling capacity for teams of 12-20 workers. Project prototypes were completed in June 2023. The ARC Team is now working with our agricultural partners to test the effectiveness and uptake of the prototypes by farmworkers. If testing is successful, the ARC Team and Ag Brain Trust will explore ways to work with the agriculture industry to bring the prototypes to market.

Protection from Heat in Hoop Houses: Collaboration with UC Cooperative Extension
In collaboration with the Ag Brain Trust and the UC Cooperative Extension, the ARC Project is exploring research and regulatory gaps related to temperature regulation for hoop houses (also known as polytunnels or PVC tunnels). These structures are used along the Central Coast of California to grow berries, flowers, and other crops. Existing research on heat inside these temporary structures is sparse and response guidance is unclear. This is very problematic as temperatures inside hoop houses can be significantly higher than outside temperatures, especially during extreme heat events.
The workgroup designed a questionnaire for growers to identify the most effective practices to protect workers from becoming heat stressed or ill while working in hoop houses. The literature review and interview phases of this project are complete. The ARC team is preparing a final draft of its findings and plans to conduct an outreach effort for sharing best practices with the industry in the coming months.
Additional information: Check out the Healthy Places Index: Extreme Heat Edition (HPI: EHE), a tool developed by the Public Health Institute's Public Health Alliance of Southern California in partnership with the UCLA Luskin Center for Innovation.
Note: this page is updated whenever major project milestones are reached. Stay tuned.
Last updated on September 8, 2023. Image credit: davispigeon0, Pixabay
Achieving Resilient Communities (ARC) – Stories of Resilience
Farmworkers are 20 times more likely to die from heat stress than the US civilian workforce overall. As climate change exacerbates heat and wildfire smoke, resilience efforts in farmworker communities will be crucial. To help increase awareness of these issues, farmworker leaders from the ARC farmworker advisory committee participated in a digital storytelling workshop to develop short videos that share their personal lived experiences with heat and wildfire smoke. This effort was led by StoryCenter and the ARC Project, in collaboration with the California Department of Public Health.
→ Watch the powerful full video series here, or individual videos below.