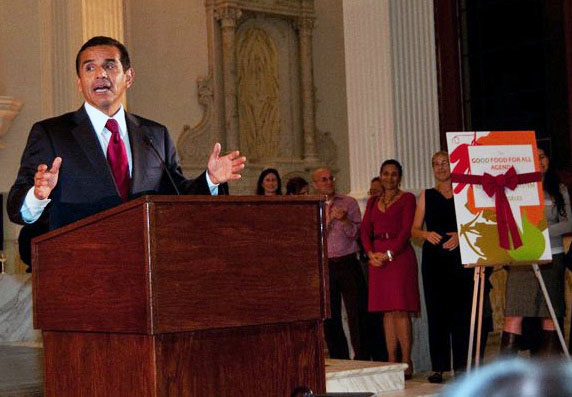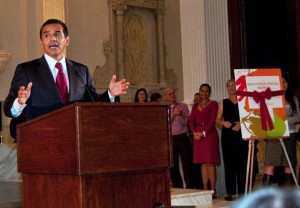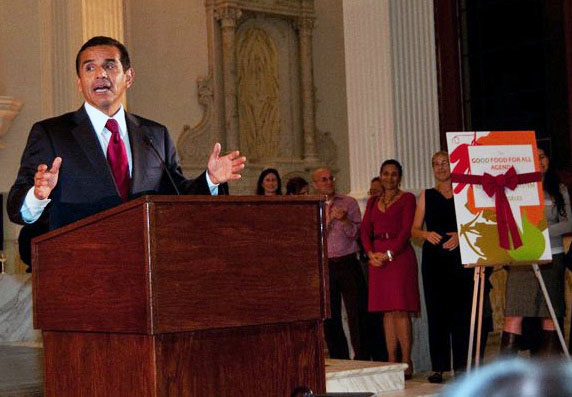 The 2010 ROC Network Summit brought together California's most creative and influential food and agricultural leaders from across the political spectrum to support the transformation of California's food and farming system.  The summit took place October 6 – 8, 2010, in Los Angeles.
ROC Summit Organizations
Ag Innovations
Agriculture & Land-Based Training Association
Angeli's Caffe
Ashoka's Youth Venture
Blueprint Research & Design
Bon Appétit Management Company
California Federation of Certified Farmers' Market
Community Alliance for Family Farms
California Climate Action Network
California Department of Food and Agriculture
California Department of Public Health
California FarmLink
California Food & Justice Coalition
Californians for Pesticide Reform
Cambodian Association of America
Coastal Alliance United for a Sustainable Economy
California Center for Public Health Advocacy
Central CA Regional Obesity Prevention Program (CCROPP)
Center for Agroecology & Sustainable Food Systems
Center for Urban Education about Sustainable Agriculture
Central Coast Agriculture Network
Central Valley Health Policy Institute
City of Long Beach
City of Santa Monica Office of Sustainability and the Environment
Community Action Partnership of Orange County
Community Health Councils, Inc.
Community Services Unlimited, Inc.
CSU Fresno Organic Farm
Deardorff Family Farms
Demeter USA
Dry Creek Ventures
Ecological Farming Association
Ecology Center
Environmental Defense Fund
Environmental Working Group
Fairfood International
FamilyFarmed.org
Farm Foundation
Farm to Pantry
Farm Worker Institute
Farmer's Market Produce Recovery Project- LA's BEST
Farmers' Markets America
Farmworks Los Angeles
Feed The Hunger Foundation
Food & Water Watch
Food Chain Workers Alliance
Food Commons
Fresno Economic Opportunities Commission
Full Belly Farm
GRACE
Hunger Action LA
Institute for Fisheries Resources
King & Gardiner Farms
Le Pain Quotidien / West Central Produce

Live Culture
Live Real
Local Initiatives
Support Corporation
Los Angeles Community Garden Council
Los Angeles Food Policy Task Force
Marin Agricultural Institute
Mia Lehrer Associates
Milagro Allegro Community Garden
MIT Collaborative Initiatives
New Resource Bank
Nueva Vista Group
Orange County Food Access Coalition
Occidental Arts and Ecology Center
Office of Los Angeles Mayor Antonio Villaraigosa
Ojai Green Coalition
Om Organics/FarmsReach
Orange County Great Park
Organic Valley
Pacific Coast Farmers' Market Association
People's Grocery
Pesticide Action Network
North America Pesticide Watch
Education Fund/The California Food Project
Physicians for Social Responsibility – Los Angeles
PolicyLink
Proyecto Jardin
Public Health Institute
REAL and Rooted in Community
Real Food Challenge
SAGE – Agriculture in Metropolitan Regions
Santa Monica Farmers Market
Santa Rosa Family Medicine Program
Save Open-space and Agricultural Resources (SOAR)
Shasta Cascade Farm and Food Coalition
SIMEON Commercial Properties
Slow Food Los Angeles
Sonoma County Poultry
South Central Farmers
Health and Education Fund
Sustainable Economic Enterprises of Los Angeles (SEE-LA)
The Orfalea Funds' Cool Food Initiative
The Social Justice Learning Institute and Morningside High School
Tierra Miguel Foundation
United States Department of Agriculture – California
University of California Davis Agricultural Sustainability Institute
University of Southern California Urban Village Farmers' Market Organization
US AgBank
USDA, Rural Development
Ventura Ag Futures Alliance
Veritable Vegetable
Visa Inc.
Watershed Media
Western Growers
Whittier College
Wholesome Wave
Whole Foods Market
Presentations Presented at the Summit
The network summit was a new phase in our work to ensure a healthy and prosperous food and farm economy in California. ROC has taken a huge step forward by introducing the results of the Strategic Mapping Project and launching a history-making policy campaign. The "California Healthy Food & Agriculture" Platform sought to inspire legislators to craft future-focused state policies that ensures a healthy and prosperous food and farm economy in California. The summit featured debates about the planks of the platform.
ROC recognized successes and key leaders in the California food system [link to changemakers  WWD.02.11] and identified ways to scale projects and build capacity within the greater food community. To learn more, please review the Summit agenda below with more details about the opening reception, "Taste of the LA Foodshed," confirmed speakers, panel presentations, invited politicians and much more.
Network Summit Program