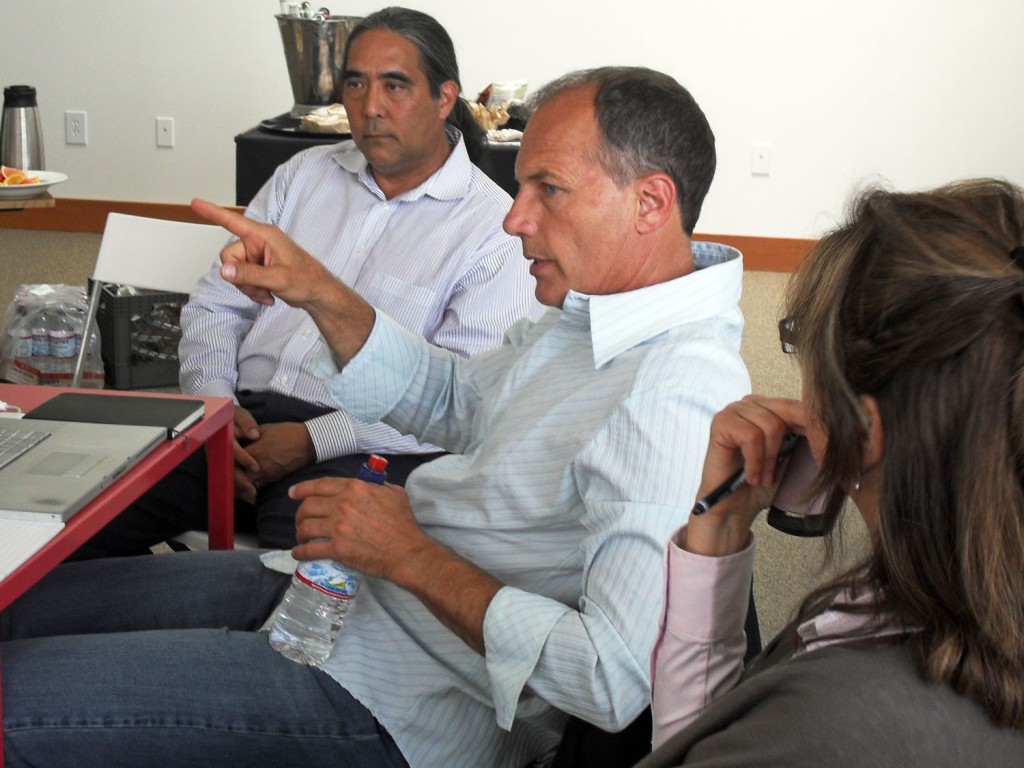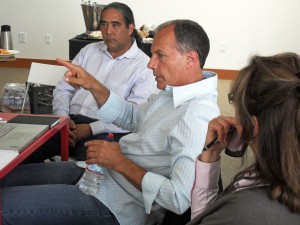 Roots of Change funded the development of a comprehensive system dynamics mapping project that brought together 35 stakeholders representing a very wide range of interests. We facilitated stakeholder conversations to help them reach a shared understanding of how a sustainable food and agriculture system would work and what actions are required now to ensure such a system emerges by 2030.  The time frame for this project was September 2010.
System dynamics mapping is a tool for building shared understanding of a complex reality. At Roots of Change, we use it to address the complexity of both the management and transformation of the food system. We used system dynamics mapping to bring together 35 stakeholders representing a very wide range of interests and help them reach a shared understanding of how a sustainable food and agriculture system would work and what actions are required now to ensure such a system emerges by 2030.
Click to download a PDF of the complete map.
Steps Used in the Mapping Process
Interview each of the stakeholders to clearly understand their perspectives in the overall food and agricultural system.
Document that understanding in the form of a rigorous, systems-based representation of each of their perspectives creating a series of individual "systems maps," and verify each map with the participant.
Integrate those individual perspectives into a single integrated "systems map" which we use to create a shared understanding of the system as a whole.
Design and facilitate a series of subgroups to increase the understanding of the individual members of the key issues and the system as a whole. At the same time, deepen the relationships between the individual members, the group as a whole and the Roots of Change initiatives. The Subgroups were:

Ensuring ongoing larger scale agricultural and food systems
Ensuring ongoing smaller scale agricultural and food systems
Ongoing stewardship of the life systems that support our agricultural and food systems
Ensuring equity in our agricultural and food systems

Preliminary analysis of the map and validation by staff
Validation with five key participants by phone and incorporation of feedback into the main map.
Two group sessions to identify leverage points—conducted by webinar/phone conference.
In-person strategy session to identify strategies for using the leverage points.
This collaboration resulted in a map illustrating the dynamics of the different parts of the food and agriculture system, and produced convergence in thinking regarding the leverage points that will produce the most progress toward sustainability.
Participants
1. AG Kawamura, Secretary, California Department of Food and Agriculture, Sacramento and Orange County
Al Montna, President, State Board of Food and Agriculture, Monta Farms, Yuba City
Anya Fernald, Founder, Live Culture and Eat Real Festivals, Oakland
Cesár Hernandez, Manager, Strategic Labor Initiatives, Reiter Affiliated Companies, Oxnard
Chukou Thao, Executive Director, National Hmong American Farmers' Association, Fresno
Corny Gallagher, Ag Business Executive, Bank of America Merrill Lynch, Roseville
Daniela Simunovic, Field Organizer, Center for Race, Poverty & Environment, Fresno
Diane Del Signore, Executive Director, Community Alliance With Family Farmers, Davis
Edie Jessup, Program Specialist, Central California Regional Obesity Prevention Project, Fresno
Erik Nicholson, National Vice President, United Farm Workers, Tacoma, WA
Harold Goldstein, Ph.D., Executive Director, California Center for Public Health Advocacy, Davis
Jan Birk, Partner, San Miguel Produce, Oxnard, CA
Jason Peltier, Chief Deputy General Manager, Westlands Water District, Fresno
Jennifer Hernandez, Partner, Cultivo Consulting, Covina
Jim Poett, Owner/Operator, Poett Ranch, Santa Barbara County
Jonathan Kaplan, Agriculture Specialist, NRDC, San Francisco
Ken Grimes, Soil Conservationist and Community Outreach Coordinator for Small Farmers, USDA, and Technical Advisor for the African American Farmers of California, Fresno
Kimi Watkins-Tartt, Director, Nutrition and Community Health Service, County of Alameda Department of Public Health, Oakland
Larry Martin, Northern California Governor, Slow Food USA, and CEO, Food & Wine Trails Travel Company, Santa Rosa
Mark Borba, CEO, Borba Farms, Fresno
Mary-Ann Warmerdam, Director, CA Department of Pesticide Regulation, Sacramento
Maisie Greenawalt, Vice President, Bon Appétit Management Co., Palo Alto
Michael Dimock, President, Roots of Change, San Francisco
Nikki Henderson, Executive Director, People's Grocery, Oakland
Noelle Cremers, California Farm Bureau Federation, Sacramento
Pete Price, Legislative Director, Speaker of the California Assembly, Sacramento
Peter Glieck, Ph.D., Founder, Pacific Institute, Berkeley
Peter Liu, Founder, New Resource Bank, San Francisco
Paul Muller, Owner & Operator, Full Belly Farm, Yolo County
Richard Spezzano, President, Spezzano Consulting Service, Inc. and former Chairman of the Produce Marketing Association, Monrovia
Steve Gliessman, Ph.D. and Clarence E. Heller, Endowed Chair for Agroecology, UC Santa Cruz, Santa Cruz
Steve Schwartz, Executive Director, California Farmlink, Sebastopol
Sue Sigler, Executive Director, California Association of Food Banks, Oakland
Tom Tomich, Ph.D., UC Davis, Ag Sustainability Institute, and WK Kellogg Endowed Chair for
Sustainable Agriculture and Food Systems, Davis
Walter Robb, Co-CEO, Whole Foods Market, Oakland
The mapping process was led by R Scott Spann, MPA, and Founder of Innate Strategies. He has used similar processes to help RE-AMP find common ground on issues of plant pollution in the mid-west, and to unite stakeholders in Guatemala. His work seeks to satisfy diverse stakeholders—NGOs, government, and business leaders wishing to do the right thing in a competitive environment—in ways that benefit the whole. Scott's experiences range from consulting with Arthur Andersen & Co. to launching the Texas office of the Nature Conservancy; serving as Managing Vice President of RPC, a small national consulting firm, to leading the Rolf Institute as Executive Director; Vice President for ARC, International, a global consulting firm specializing in leadership development and cultural change, to working for Stone Yamashita Partners, a leading branding and strategy firm.

This work is licensed under a Creative Commons Attribution-NonCommercial-NoDerivs 3.0 Unported License.
For more information on user rights of our strategic maps please email [email protected].
 Downloadable Reports