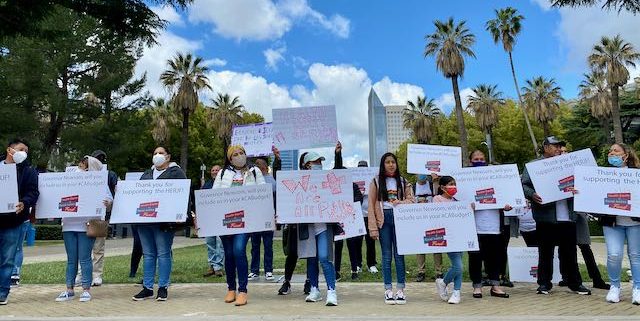 The California Health Equity and Racial Justice Fund is a bold, innovative proposal to address both the social determinants of health and structural racism. The Fund will invest in community-based organizations, clinics, and tribal organizations to transform community conditions and institutional/government systems to promote health equity and racial justice.
Image: Doris Meier
Roots of Change and others are working to remedy food injustices. The stark realities exposed by COVID-19 demonstrate more help is needed, and needed now.
Since the Governor did not include specific funding for community-based organizations (CBOs), we need your help to remind legislators in the weeks ahead that we need solutions to local health equity and racial justice issues. Please help spread the word on social media and in your networks to urge Governor Newsom to include an annual investment of at least $100 million in the Health Equity and Racial Justice Fund in California's 2022/23 budget!
FAQ SHEET  |  FACT SHEET  |  HERFund.org 
UPDATES
June 30, 2022:
Governor Newsom Again Fails to Support the Health Equity & Racial Justice Fund
For a second consecutive year, Governor Newsom has declined to invest in a Health Equity and Racial Justice Fund to support transformative community-driven change to reduce health inequities and advance racial justice. Read more
April 27, 2022:
During the past few weeks, community members throughout the state have led rallies calling on Governor Gavin Newsom to include $100 million in annual funding for a Health Equity and Racial Justice (HERJ). Here a few photos and videos of the rally at the Capitol in Sacramento on April 22, 2022: