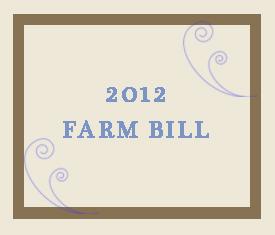 Senate Agriculture Committee Passes 2012 Food and Farm Bill
April 27, 2012
Roots of Change
Roots of Change (ROC) is very grateful for all the phone calls made by our allies up and down the State who sought to motivate our Senators to craft a better Food and Farm Bill. As we announced yesterday the U.S. Senate Agriculture Committee approved a five-year Food and Farm Bill with a final vote of 16-5.
The committee bill is projected to cut approximately $23 billion over the next 10 years. The cuts include $15 billion from the Commodity Title, $6 billion from Conservation programs and $4 billion from Nutrition programs. ROC is not happy about these cuts to programs we see as essential to a sustainable food system, but we also sense cuts are inevitable given the 2011 budget agreement and the House position on budget reduction. Given this we see there are notable positive changes in the Senate version. We commend Chairwoman Debbie Stabenow (D-MI) and Ranking Member Pat Roberts (R-KS) for their work and leadership in enacting a bill that promotes healthy communities, sustains conservation and provides growth opportunities for farmers and ranchers. In addition, ROC is delighted to note that the bill includes a specific provision that supports a Farmers Market and Local Food Promotion Program with funding at $100 million over 5 years. Part of this funding would help incentives programs like the California Farmers' Market Consortium (CFMC), a unique collaboration among eleven NGOs from San Diego to Humboldt counties for which ROC acts as a backbone entity. Working together these innovators help farmers thrive, promote access to fresh produce and affordability for federal nutrition benefit clients at 130 farmers markets in California.
The process of making this Food and Farm Bill into law has just begun. We look forward to keeping you updated as the bill makes it way for a hearing on the Senate Floor.
For a complete copy of the Food and Farm bill, called the Agriculture Reform, Food and Jobs Act of 2012 please visit the Senate Agriculture Committee website.
Sincerely,

The Roots of Change Team