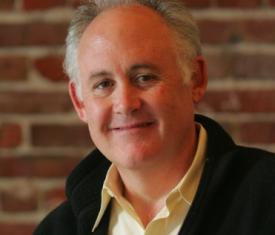 Bon Appétit Management Company Can Party & Talk Policy Too!
October 4, 2010
Michael R. Dimock
Amazing, I thought to myself as I walked into the University of San Francisco Dining Hall on September 28, 2010, it smells great! I was invited by Bon Appétit Management Company to attend a special dinner for their national Eat Local Challenge. At all 400 of their dining service sites from coast to coast, on college and corporate campuses and museums, their teams where serving a day full of meals sourced from within a 200 mile radius. This focus on the foodshed is but one of many innovations of this pace-setting company. As the founder and CEO, Fedele Bauccio explained, their move toward sustainably produced, local and seasonal menus began with a desire to put real "flavor on the plate." Today they are known for championing caged free eggs, certified sustainable fish, local organic and fresh fruits and veggies, low carbon meals, and dinning halls where chefs are not given menus. Instead, chefs are challenged to be creative within their budgets and meals are prepared from scratch. And from what I saw, it pays off. If every dining service provider in America were like Bon Appétit, there would be a larger number of healthy food and farms and we'd thinner and healthier too.
Speaking of healthy food and farms, Bon Appétit is definitely thinking about food State and Federal food and farm policy and links to their business model. The guests invited to dinner to discuss policy included Ken Cook, America's most precise critic of agriculture subsidy programs and President of Environmental Working Group; Naomi Starkman, policy consultant to Consumers Union, Packard Foundation and others, as well as the Co-founder of Civil Eats and a renown blogger herself; and Megan Miller, San Francisco-based Field Representative for Barbara Boxer. It is interesting to note that despite what many call her "liberal and environmental bias," the California Rice Commission endorsed Senator Boxer in her current race against Ms. Fiorina. Production agriculture and an enviro Senator… now that is an alliance I like to see. It is for good reason too.
The rice growers, who feel a responsibility and vulnerability because of their subsidy payments and water use, are among California agriculture's most responsible stewards of resources. They know their future depends on a maintaining a social compact with American citizens that is about more than just good rice. They work hard to create and maintain habitat for migrating birds and protect the quality of water as it passes through their paddies. To me what is most important is that the rice industry seems authentically committed to continuous improvement of farming systems. The next big challenge for them is green house gas emission from paddies. And they are working on it with UC Davis. The rice growers are good example of what must emerge in every other crop in the State. Perhaps ROC's proposed Stewardship Incentive Act will aid with the rice growers' climate challenge. So between the great policy conversation as we ate, the stellar dining services I saw, and the beautiful meal we were served at table, Bon Appétit proved they can throw a compelling bash.