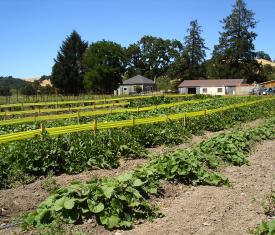 An Emerging Mainstream In Food and Farming
July 11, 2012
Roots of Change
Is our food system broken? Earlier this year we shared an excellent blog, It's Not That It's Broken, written by farmer and author Chris Sayer. He writes about the state of American agriculture, its evolution and what lies ahead. Chris points out that the current mainstream food system is doing exactly what it was meant to do by those who designed it. It maximizes outputs to feed people, but at what cost? His analysis suggests that the array of problems we face today result from concepts and frameworks of the past that no longer apply. Today's industrial approach to food production, which minimizes diversity to maximize efficiency, is dysfunctional. It is outpacing the planet's ability to renew our resources for tomorrow, and we will pay a high price for unintended food system impacts well into the future.
At Roots of Change we are excited to announce a new series, A New Mainstream in Food and Agriculture that highlights how a localized, ecological, affordable, equitable and healthy food system is being realized – statewide – and how that emerging system points the way to a better future for us all. Agriculture has continually evolved since its inception. The rate of change has drastically accelerated since the 1950's, and along with the advent of ecological and social justice thinking in the 1960 and 70s, new opportunities have emerged. As a consequence, a sustainable food system is no longer 'just' an alternative to the current mainstream industrial approach. It is actually becoming a viable "new mainstream" in food and agriculture. New methods of farming, ranching, processing and distribution are capable of feeding our diverse and growing population, while protecting the environment and enhancing public and worker health and rural economies.
A unified and strategic movement is emerging that understands and addresses the need for a healthy web of relationships upon which a vibrant food system must be built. An increasing number of sustainable production models are not only maximizing yields and minimizing energy and other inputs, they are proving to be as effective as the high energy and chemical input models of industrial production. The triple bottom-line benefits of sustainable production (people, planet and profit) are garnering increased support and acceptance within the current mainstream of agriculture. But the business of food production is not the only sector in the midst of a major transformation; we are seeing a cultural revolution within our communities.
Today's desire for local and sustainable is more than a mere trend. It has become a permanent part of our culture. Farms, ranches, farmers markets, roadside stands, food hubs and restaurants are serving as local economic engines; and food policy is a hot topic across California. More individuals are paying attention to where our food comes from and how our food choices impact the environment, our health and future generations. We are applying new values in food and agriculture to reflect the long-term needs of our communities.
Stay tuned as we highlight those individuals, food producers and organizations rethinking every aspect of our food and agriculture and who are forming the NEW MAINSTREAM.
---
Do you have a story worth sharing? How are you making a difference in your community? Get in touch with us and tell us how you're part of this new mainstream in food and farming!
Simply send an email to Daniela at [email protected] I'd love to hear your story!