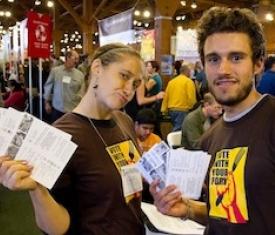 AB 2385 – Update
May 27, 2014
Michael R. Dimock
We are disappointed to report that the Assembly Appropriations held AB 2385 (Market Match Incentive Program) in committee last Friday, the 23rd, effectively killing the bill for the 2013-14 session. AB 2385 and 1961 (farmland protection) were two of the food system bills stopped by the Committee. This is a step back and confirms the need to be even more intentional in our relationship building with legislators as well as government agencies in all future advocacy efforts.
But there were two important steps forward in our inaugural effort to seek state policy change. First, we demonstrated how a CAFPC coalition of the willing can successfully and quickly conceive a bill and work with a legislator's office. We cannot forget that in that process we won seven out of seven votes in the Agriculture Committee and received vigorous praise from a Republican member. Second, the CAFPC coalition gained the support of more than 60 organizations and individuals in one week. This revealed that the organizations and communities linked to the CAFPC are able to quickly and robustly respond to a call for action. This was a critical test of our organizing capacity. We will need to do this much more as we work to win future policy campaigns. It excites us to think of what will happen when the entire CAFPC decides to initiate and advocate for a policy change.
There was other good news from the Capitol last week. The CAFPC was among the groups that helped the public health community to move SB 1000 (Sugary Drink Labeling) out of Senate Appropriations onto a floor vote. Considering its well-funded opposition from the billion-dollar beverage industry, this is only the first hurdle that this bill must overcome.  California Center for Public Health Advocacy's success with Senate Appropriations on SB 1000 shows how powerful and successful integration of networks can be.
The suspense filing of AB 2385 doesn't change the availability of USDA's $100 million in incentive dollars or the 5-year timeline. We must remain vigilant in ensuring that California's growers and low-income population benefit from this fund. ROC plans to support The Ecology Center – as needed and requested – to work with current and future Market Match partners to receive those funds. We are closely following the pending release of the USDA's grant application, slated for late summer or early fall, and will keep CAFPC members informed.
Finally, ROC remains committed to helping those interested CAFPC members, the Ecology Center and its partners to bring the Market Match program to every farmers market in the state. That effort will only succeed with a well-funded initiative. CDFA must become a central partner in a grant program that ensures California maximizes federal and local contributions by itself committing energy, people and funding to unleash our farmers markets to help feed good food to all people. So we will not give up. We feel more motivated than ever to move forward.