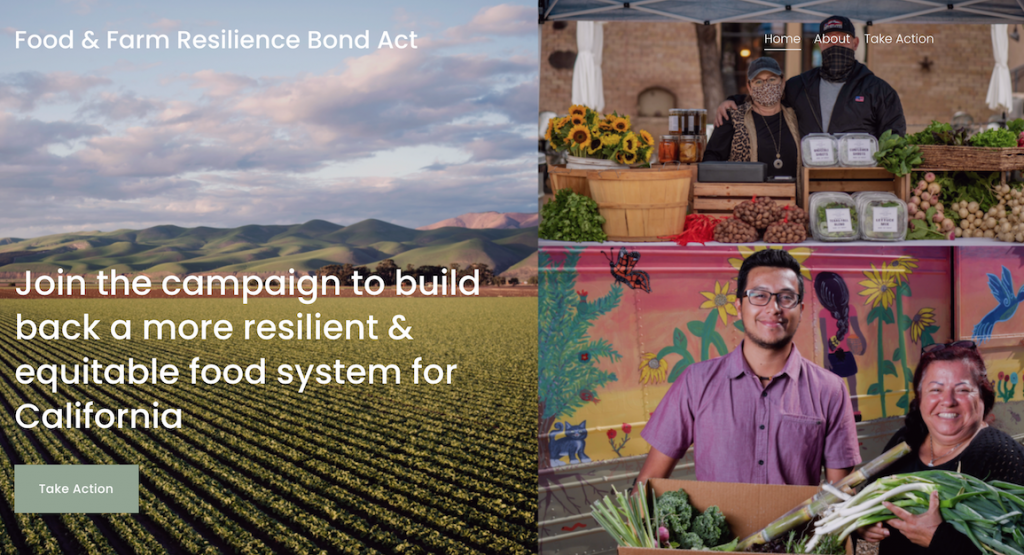 A Resilient and Equitable Food and Farming System in California
March 17, 2021
Roots of Change
Today, Assemblymember Robert Rivas (D- Hollister) made an exciting announcement about a bill he just introduced called the Equitable Economic Recovery, Healthy Food Access, Climate Resilient Farms and Worker Protection Bond Act (AB 125). If you missed it live, you can watch the press conference here. Roots of Change is a member of the diverse coalition that is co-sponsoring the bill.
The coronavirus pandemic has revealed weaknesses within our food and farming system and exacerbated long-standing inequities. This bond measure proposed in AB 125 would invest in California's communities in order to address the multiple challenges we face today: recovering from the impacts of the pandemic and fighting the climate crisis while rebuilding our food and farming system to be more equitable and resilient in the face of future shocks.
At the press conference announcing the bill, Assemblymember Rivas and Assemblymember Ash Kalra (D-San Jose) shared the reasons for their leadership on this initiative.
"It is time for a better food system in our state—one that is more resilient, more sustainable, and more just. AB 125 is an investment in our future that will help spur our economy and rebuild our food and farming systems to be more equitable for all Californians, while protecting our environment and our farmlands, so California's agricultural industry can remain competitive for many decades to come." – Assemblymember Robert Rivas
"There is a lot of connection between what is happening in our urban communities & our rural communities. I'm here to speak on the importance of this bond on the issues of economic recovery, climate change, food security & farm system workers." – Assemblymember Ash Kalra
For the first time, AB 125 will give voters the opportunity to invest in building the infrastructure needed to provide Californians a safe, reliable, healthy, and environmentally sustainable food supply. This measure aims to deliver healthy food for the most vulnerable Californians while climate-proofing our farms that face droughts, wildfires, and extreme weather. It also makes investments in disadvantaged communities, socially disadvantaged farmers and ranchers, Tribes, small- and medium-sized farms and small businesses to ensure an equitable economic recovery for California.
The four main areas in the bond are:
1. Investments in Farmworkers ($637 million) — Affordable housing for farmworker families, stockpiling PPE for workers, and improving indoor air quality in existing farmworker housing and better connecting farmworker housing with services.
2. Investments in Agricultural Solutions to the Climate Crisis ($1.135 billion) — Sustainable agricultural solutions to slow the impacts of climate change and reduce pollution; strategies that reduce wildfire risk and invest in farmland conservation to keep our farms viable and resilient; compost infrastructure to build healthy soils; groundwater sustainability.
3. Investments to Combat Hunger and Improve Healthy Food Access ($750 million) — Infrastructure to improve food access for all Californians through our schools, food banks, food hubs, urban farms, farmers' markets and other community-based investments to provide access to healthy, sustainably produced food.
4. Investments in our Regional Food Economies ($600 million) — Regional food processing, storage and distribution infrastructure to strengthen small- and medium-scale businesses across the food supply chain, and to increase equity, energy conservation and efficiency of farm (and sea) to table. This is especially critical in the livestock sector where grass-fed, regenerative producers are struggling to have their animals processed, robbing our rural regions of economic opportunity.
Members of the AB 125 Coalition also spoke at the press conference. Here are their statements:
"With the introduction of AB 125, Assemblymember Rivas is once again demonstrating his commitment to the health and safety of farmworkers in his district and across California. This bill will take care of the workers who feed us and are the backbone of our agricultural economy."
— Cesar Lara, Executive Director of the Monterey Bay Central Labor Council
"This bill will provide the resources that farmers and ranchers need to cut climate pollution and maintain a viable and sustainable agriculture in California. It's time to invest in our food and farming infrastructure of the future."
— Jeanne Merrill, Policy Director, California Climate and Agriculture Network (CalCAN)
"AB 125 is solving the inter-related problems of the climate crisis, food insecurity, health risks among frontline workers, and lack of infrastructure for local and regional food systems."
— Andy Naja-Riese, CEO, Agricultural institute of Marin
"We support AB 125 because it includes multiple funding mechanisms to address some of the many problems that farmworkers and other essential workers have faced over the years, and that were significantly exacerbated by the pandemic."
— Nayamin Martinez, Executive Director, Central California Environmental Justice Network
Click here for a summary of AB 125, and here for the full bill language.
Will you join us? Learn more about the bond and how you can get involved here.
The coalition sponsoring AB 125 include these members:
Agriculture Institute of Marin
American Farmland Trust
California Climate & Agriculture Network (CalCAN)
Californians for Pesticide Reform
Carbon Cycle Institute
CCOF
Center for Food Safety
Central California Environmental Justice Network
Centro Binacional para el Desarrollo Indígena Oaxaqueño (CBDIO)
Community Alliance with Family Farmers
Intertribal Agriculture Council
Monterey Bay Central Labor Council
Natural Resources Defense Council
Pesticide Action Network
Roots of Change
Sustainable Agriculture Education
UFCW Western States Council
TAKE ACTION!
If your organization or business would like to support AB 125, please click here to sign on to a letter.
AB 125, AB125, Assemblymember Ash Kalra, Assemblymember Robert Rivas, Climate Crisis, Combat Hunger, Food and Farm Resilience, Food and Farm Resilience Bond Act, Improve Healthy Food Access, Investments in Agricultural Solutions, Investments in Farmworkers, Regional Food Economies, Vote for your Food