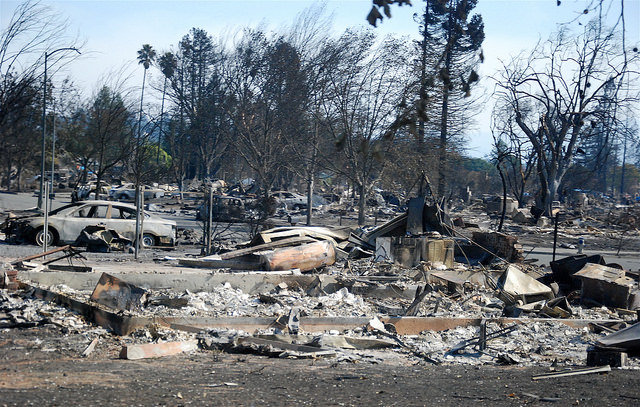 4 Minutes on Healthy Food and Farming: Agriculture as a Solution to Climate Chaos
March 5, 2019
Michael R. Dimock
This is Flipping the Table and I am Michael Reid Dimock with four minutes on Healthy Food and Farming.
I live in Sonoma County, 45 miles north of the Golden Gate Bridge. In the last 18 months I have lived through three natural disasters that have intensified my passion for healthy food and farming. In October 2017, a biblical firestorm burned 7500 buildings, nearly 100,000 acres and caused over $14 billion in damages. I have over 40 friends or acquaintances who lost their homes. In November 2018, a conflagration 160 miles away vaporized the town of Paradise and created a sea of toxic smoke that covered Sonoma County for 20 days. Then last week, a deluge caused massive flooding of the Russian River, destroying one of my favorite restaurants, Zazu Kitchen and Farm, run by Duskie Estes, of Iron Chef fame, and her equally talented husband John Stewart. Duskie and John are the hub of a food community that expresses all the values, practices and goals of a food system that delivers health and resilience. They focus on hyper-local sources of sustainably-produced beverages, organic produce and grass-finished meats and they defend our immigrant workforce.
But the dream of a healthy, just and resilient food system will never come to pass if the world does not stop and reverse the extreme weather. I don't care if you are democratic socialist or a conservative Christian, whether you live on the stormy coastlines, the frigid Heartland and Great Lakes or the high and dry West, we're all experiencing unprecedented extreme events. Scientists believe food production could decline by over 10 percent in this century due to the rapid change in climate underway.
We must use every tool possible to tame the chaos. Farmers and ranchers are a critical tool. They can capture carbon in our soils. Dr. Rattan Lal, of Ohio State University, is among the world's leading soil scientists. Back in 2004, he established that soil-based carbon sequestration has the potential to offset global fossil fuel emissions by up to 15%. That is a significant piece of the solution to our problem and can be done more quickly than ending use of fossil fuel energy.
He has also outlined strategies to reach this goal, including no-till farming, cover cropping, improving nutrient and water management, composting, manuring, managed grazing and much more. Happily, there are multiple benefits to these activities that capture carbon. Carbon rich soils create farms and ranches that are more resilient in the face of pests, disease, drought and floods. Dr. Lal showed that an increase of 1 ton of soil carbon per acre on cropland can significantly increase crop yields thereby enhancing food security in a world that will face even greater hunger challenges in the years ahead. The good news is that more farmers and ranchers are heeding Dr. Lal's prescription, but the pace of change is too slow. That is why advocates and policymakers are creating new programs that offer farmers and ranchers financial incentives to change. Here in California we have three new programs. The Healthy Soils Program provides grants to build soil carbon and to measure results. The State Water Efficiency Enhancement Program improves water management by funding use of new technologies and practices. There is also a program to permanently protect farmland because urban development emits more carbon than farms. The French are actually leading the world by seeking to increase soil carbon by 4 tenths of a percent each year. This is an audacious goal, but doable and at least 26 countries or regions have signed on to join the French. All of these programs are welcome and essential. But we still need more and larger scale programs across the nation and globe to meet the challenge. You can do your part by supporting policies, farms and ranches that make agriculture a solution to global warming.
I hope you were informed by these four minutes on healthy food and farming. Next week I'll have an honest and wide-ranging conversation with Dr. Howard-Yana Shapiro of Mars Incorporated about uncommon collaborations meant to create a resilient food system.
To learn more about the California policies mentioned above and even more that is being sought go to CalCAN's website. They are the organization we join with to advoacte for climate smart agriculture policies.