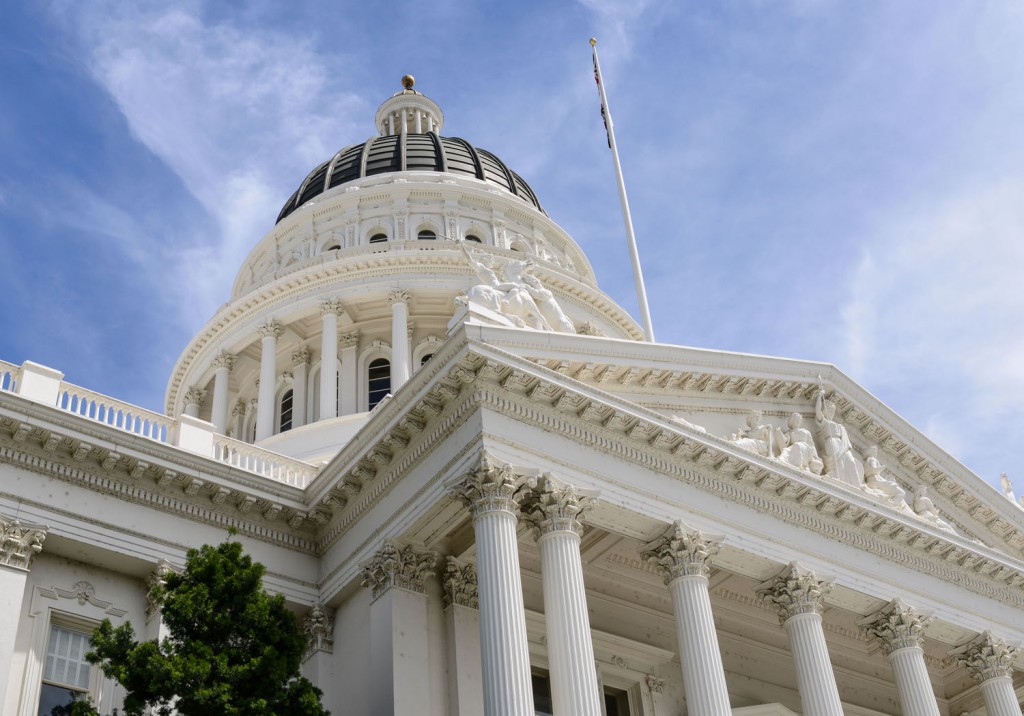 Update on CAFPC Tracked Bills
10/15/15 —  We thought you'd appreciate an update on the final status of the eighteen bills tracked by the CAFPC for its report this year. Eight or 44 percent of the bills tracked became law this year.
AB 1045 Organic waste, composting: Passed by the Legislature and signed by the Governor
SB 367 Ag Lands, green house gas: Held in Assembly Appropriations Committee
AB 761 Carbon sequestration, working lands: Held in Senate Appropriations Committee
AB 876 Compostable organics: Passed by the Legislature and signed by the Governor
SB 32 Global Warming Solutions Act, emission limits: Failed Assembly floor vote and re-referred to and held in Assembly Natural Resources Committee
AB 1288 Air resources: Passed by the Legislature and signed by the Governor
AB 156 Global Warming Solutions Act, disadvantaged communities: Held in Senate Appropriations Committee
SB 623 Public health, health workforce projects: Passed by the Legislature and signed by the Governor
SB 3 Minimum wage adjustments: Held in Assembly Appropriations Committee, but remains alive as 2-year bill
AB 561 Ag Labor Relations: Passed by the Legislature and vetoed by the Governor
SB 27 Livestock, use of antimicrobial drugs: Passed by the Legislature and signed by the Governor
SB 334 Pupil health, drinking water: Passed by the Legislature and vetoed by the Governor
AB 1321 California Nutrition Incentives Act: Passed by the Legislature and signed by the Governor
AB 515 California Environmental Quality, writ of mandate: Passed by the Legislature and vetoed by the Governor
SB 20 Wells, reports, public availability: Held in Assembly Water, Parks and Wildlife Committee, but remains alive as 2-year bill
SB 208 Water management plans: grants: advanced payment: Passed by the Legislature and signed by the Governor
AB 226 Retail food safety, fisherman's markets: Passed by the Legislature and signed by the Governor
AB 1357 Children and family health promotion program: Failed in Assembly Health Committee, but remains alive as 2-year bill
CAFPC's 2015 Legislative Report
9/30/15 — As we discussed at last week's Fall meeting, we've hit a period now where the capitol building is quiet and legislative work is largely on hold except for Gov. Brown deciding which bills do or do not become law. AB 1321 (Ting) is in that bucket and if you haven't taken action yet, please check out the post immediately below from 9/16! Capitol Updates will go on a brief hiatus until session resumes in January but the next CAFPC bi-weekly is important because it will contain the 2nd and final draft of the legislative report. Advocating members, please make sure that you download it, forward it to your colleagues at your FPC or FSA and schedule agenda time to discuss it, per requirements of the operating guidelines. The report continues to evolve towards something better — props to all the volunteer hours from CAFPC members and its nonprofit allies who participated in this year's report!
Mabuhay at salamat sa lahat, justin
End of Session (Almost)
9/16/15 — This past Saturday, close to midnight, both the Senate and the Assembly finished their regular legislative business for the year and are officially on interim recess until the second year of the 2015-16 session begins in January 2016. For those bills that made it out, like AB 1321 (Ting), it's up to the many stakeholders, interest groups and lobbyists to persuade Governor Brown to sign or veto a bill within 30 days (for most bills). The CAFPC has been a strong and effective supporter of AB 1321 and it's up to us and others in the coalition to dig deep and ensure that we can harvest the fruits of our labor by getting Governor Brown to sign AB 1321 into law! Hopefully you've seen the action alerts for letters and calls, but in case you haven't, here it is:
(a) If your organization, group, association, etc. supports AB 1321, please fax your support letter using this template and your letterhead to 916 444-3028.
(b) As a California resident, please call Governor Jerry Brown's office – (916) 445-2841 (an intern or aide will take your call)
Hello, my name is __________ and I live in/work at __________. I am calling to urge Governor Brown to sign AB 1321: CA Nutrition Incentives Act. ​AB 1321 is a step in the right direction in order to end food insecurity and keep our families and local economies healthy. It would also leverage federal matching dollars. The Legislature gave strong bipartisan support for this bill and I hope Governor Brown will support it too by signing this bill into law.
I'll give a broader update on this year's session and policies of interest at the statewide meeting next week. I look forward to seeing the statewide reps and our health department partners in Sacramento!
Soil Health Bills Fare Poorly in Approps
8/31/15 — As Michael's blog post lays out in this week's Pulse, water is liquid gold in California and across the West. Two California bills that the California Food Policy Council has been supporting would have further defined California Department of Food & Agriculture's Healthy Soils Initiative (AB 761, Levine) and funded related on-farm best practices through cap-and-trade dollars (SB 367, Wolk). SB 367, co-sponsored by CalCAN and CAFF, is especially important because it would have marked the beginning of using the Greenhouse Gas Reduction Fund to catalyze the uptake of sustainable agricultural practices that improve soil health and thereby increase water retention capacity (among other co-benefits). Unfortunately, these bills that would have increased the water holding capacity of soils were held in Appropriations Committees in the state Assembly and Senate last Thursday, indicating that we either have more drought to go before the changes we need can be realized or that legislators are willing to take up action through the cap-and-trade fund allocation process.
Fear Not, Help Get AB 1321 Out of Senate Approps!
8/19/15 — As expected, AB 1321 (Ting) was referred to Senate Approps' Suspense File, requiring further review on potential fiscal impacts to the State because of the grant-making duties proposed for the Office of Farm to Fork. This is a significant hurdle, but fear not, an action alert is out for calls to targeted senators, and we did get this bill out of Suspense in the Assembly!
AB 1321 needs the CAFPC and its network of members to call Senator Lara (Chair of Approps) and Senator de León (Senate Pro Tem). It'll take less than five minutes and a script is here for your convenience; any Californian you know can make these two calls. LA Food Policy Council and Long Beach Fresh members are especially influential during this time.
And in case you're feeling like these calls won't make a difference, ROC and UFCW-Western States Council recently got a job killer bill (see link at the end of this blog post) signed into law by Governor Brown in AB 359 i.e. grocery worker retention. We did so through activation of networks and in partnership with our allies Community Food & Justice Coalition, Food Chain Workers Alliance, Hunger Action LA and Western Center on Law & Poverty. Don't know what a job killer is? Check out this recently published SacBee guide to capitol speak!
Choose Health CA Invites the CAFPC to Pass Local Resolutions
8/6/15 — Before I get into the topic of this week's capitol update/action alert, here are some legislative updates: AB 1321 (Ting), AB 761 (Levine) and SB 367 (Wolk) are all in the Appropriations Committees in their second house. The Legislature will reconvene on August 17, with the deadline to get out of committee being August 28 and bills effectively required to get to the Governor by September 11. Keep an eye out for future action alerts that require swift turnaround!
ROC is also co-sponsoring AB 359 (Gonzalez) this year with the United Food & Commercial Workers-Western States Council, to give temporary protections to workers in large grocery stores and to build power between the labor and food movements. We got it to the Governor's desk despite fierce opposition from the Chamber and grocery retail industry for an ordinance that has already been upheld by the California State Supreme Court after LA first passed it in 2005.
On a related note of collaboration, this week's action alert in the body of the bi-weekly comes to you from Choose Health California, a coalition of organizations that is currently focused on policies related to decreasing the consumption of sugary drinks and improving public health. AB 1357 is Choose Health CA's primary proposal — a statewide health impact fee on sugar sweetened beverages — that would include considerable funding for the CAFPC's food system work, from Farm to School to nutrition incentives to food security programming. As currently written, AB 1357 could fund food systems work that improves health to the tune of $600 million a year. The resultant fund is the best shot for food system advocates to establish a significant funding stream and as we've seen with cap-and-trade, funding is fundamental to driving systemic innovation. So, we invite you through this week's biweekly to work with your City Council or Board of Supervisors to pass the sample resolution that would help change the power dynamics in the Legislature and encourage your members to enact a statewide sugary drink fee!
ROC Call for Statewide Policy Ideas!
7/22/15 — Given the recent restructuring of the CAFPC through the Operating Guidelines update, I recommend all CAFPC members to consider and float statewide policy ideas to the CAFPC advocating committee and ROC staff for 2016. Even though this legislative session is still far from over, ROC is already beginning to plan with its allies on next year's legislative platform and would like to ensure that CAFPC policy priorities are included in that discussion until you're ready to sponsor your own bill. It would give us and the advocating members an opportunity to think ahead of the curve and see if there's significant agreement on what to work on next (assuming we're successful with AB 1321 i.e. nutrition incentives).  As of right now, ROC is committed to continued advocacy for AB 1357, which would create a sustainable funding stream for various food systems work, but are still considering policy ideas that deal with environmental sustainability or resiliency and workers. If your council or alliance has any policies at the state level, please send them our way!
What's Up with CAFPC's Policy Agenda?
7/9/15 — As the Legislature nears summer recess, July 17 – August 16, the CAFPC is engaged in a lot of policy activities. Not bad for a statewide grassroots food policy council! The policy work group for the CAFPC's 2015 legislative report has finalized a list of bills for tracking, and a sub-group of members are now engaged in drafting the report with author Dan Imhoff.
This year, the CAFPC has also taken a position on three bills: AB 761 (Levine), AB 1321 (Ting) and SB 367 (Wolk). All three are still alive and moving through the legislative process with bipartisan support. SB 367 recently passed out of Assembly Ag committee and AB 1321 out of Senate Ag. Since AB 1321 is a bill ROC is co-sponsoring, I'm happy to report that we received our first bipartisan vote in committee with Senator Cannella (R) voting in support of nutrition incentives as Ag committee vice chair. Melanie Wong and colleagues from the Central Coast Healthy Food Access Committee did some advocacy of their own at Sen. Cannella's district office, and the proof is in the pudding. When applied strategically, CAFPC members' voices can be heard and I encourage you to continue building relationships with your state Assemblymembers and Senators.
Last but not least, props to all CAFPC members for the work you do week in and week out. I subscribe to many of your email newsletters and I'm amazed at what many of you are doing at the city or county level. Please consider sharing some of your successes or inviting your state representatives to an event when they are more likely to be in the district during summer recess.
Federal Spending Plans in the Pipeline
6/18/15 — Given the Pulse's focus on ROC's nutrition incentives work in California this week, Capitol Updates turns to our nation's capitol. ROC tracks federal issues and will continue to advance our shared priorities with allies like the Public Health Institute, as we have done in the past. This week is a busy one, with 27 programs slated for elimination in Congressional Appropriations bills, including several policy provisions that would impact food systems and nutrition priorities, including language that would tie the hands of the Health and Human Services agency from expanding the focus of the Dietary Guidelines for Americans to include sustainability considerations.
On Thursday, June 18, the House Agriculture-FDA Appropriations Subcommittee is scheduled to mark up its FY 2016 Appropriations bill, the measure funding the Department of Agriculture and Food & Drug Administration. On Wednesday, June 17, the House Labor, Health and Human Services, Education and Related Agencies Appropriations Subcommittee marked up their fiscal year (FY) 2016 spending bill. All proposed amendments to restore funding to programs slated for cuts were voted down on a party-line vote. Next week, the bill is expected to be brought up in both the full House committee but also the Senate subcommittee.
Budgets are an expression of values. In California, we've learned what those are for fiscal year 2015-16. ROC will continue to monitor how Congress will respond as well.
###
Update on Our Push for a California Nutrition Incentive Program Using Budget and Legislative Processes 
6/11/15 — The Budget Process: We are almost there! The coalition succeeded in placing a line item in the Budget Conference Committee's proposed state budget to support the creation of the Nutrition Incentives Matching Grant Program. The Committee authorized a one-time $2.5 million appropriation. Senators Mark Leno (SF) and Ricardo Lara (Bell gardens) and Assemblymembers Shirley Weber (SD) and Richard Bloom (Santa Monica) voted on Tuesday to include the proposal, with Senator Jim Nielsen (Gerber) and Assemblymember Melissa Melendez (Lake Elsinore) voting no. The fiscal ask is modest because we're proposing a new statewide financial responsibility, and that's never easy.
We were successful with the Conference Committee because CAFPC members and our coalition allies rallied their network to show support by making calls and sending email to four key legislators. Our grand network made calls over the weekend into Monday and it made all the difference. A huge, heartfelt thanks from ROC and the coalition.
But, negotiations aren't done yet — it's now up to the Legislature to pass the budget bills and then Governor Brown begins his negotiating process with the Legislature. The final action alert on the budget process will come out early next week and will focus on the Governor's Office. So, we must rally one final time to keep up the pressure and make this budget proposal a reality.
The Legislative Process: I speak often about the critical need for the food movement to re-engage in the policy-making process. I was excited when the CAFPC initially voted to support AB 1321, and I am even more hopeful because our members worked the phones, sent email and attended meetings to get the bill out of the deadly Appropriations suspense file and onto the Assembly floor where it was passed 61-16! I know for certain that CAFPC members locked in that bipartisan support because Plumas-Sierra and Shasta got early commitments from Asm. Dahle, and Kern got Asm. Grove. It is important to note that Asm. Grove had seen the bill in the Assembly Ag Committee but had remained neutral on the bill. I know that Kern FPC's voice supporting AB 1321 moved her to a yes vote by the time it reached the floor. This is a clear example of how CAFPC members and their allies can make policy change. As Mark Bittman said at a New York Times conference last year, we are "…not as powerful as we will be, but we are more powerful than we were."
###
Go Time for Nutrition Incentives in the Budget (and the Bill)
5/28/15 — "Do not go gentle into that good night… Rage, rage against the dying of the light." With many long days and some sleepless nights, ROC and its allies were able to secure a one-time $2.5 million General Fund appropriation in the Senate's budget proposal for nutrition incentives! It is less than what we were advocating for but keeps this budget proposal alive as the next phase begins, where conferees who represent a subset of the Assembly and Senate budget committees will be announced soon. This Conference committee will then merge both houses' budget proposals into a unified proposal from the Legislature that will then be used in negotiations between the Legislature and Governor Brown.
The deadline to pass the state budget is June 15 but there will be multiple opportunities where this proposal could be deleted. It's now or never for the CAFPC to go all out in support of the nutrition incentives budget proposal. There is an email petition up right now that has 438 folks who have participated. The truth is that if we expect this budget proposal to survive, we need way more than that. So, I'm making a very serious request for all member councils (and not just the CAFPC rep) to complete the petition, and to get affiliated organizations to also sign up. For example, me signing the petition for ROC wouldn't be enough, I need to get Michael, Doris, Holly, and the people they work with to also sign. "Rage, rage against the dying of the light."
For context, there are other proposals that are much bigger and have more established coalitions that are also included, like repealing the Maximum Family Grant Rule or increasing SSI, in addition to the Governor's proposed low-income Earned Income Tax Credit. We need to rally supporters to the finish line and ensure that Conference members and the Governor are hyper aware that there is a large and diverse group of supporters out there who want to see this $2.5 million retained in the final budget. Once Conference members are announced, expect another action alert that focuses support on these legislators.
Lastly, and to end on an upbeat note, AB 1321 got out of the suspense file in Appropriations, where it was held last year, and is now headed to the floor! Thanks to all our supporters who weighed in on Appropriations — it did make a positive impact. It's likely Asm. Ting will present the bill on the Assembly Floor on Tuesday, June 2nd. 1321 supporters can either send a letter to their respective Assemblymember's office or call their respective Assemblymember's Sacramento office before June 2nd:
"Hello, my name is __________ and I am a California Food Policy Council member/supporter and constituent of Assemblymember __________'s district. I am asking her/him to support AB 1321 (Ting) which would create a statewide Nutrition Incentives Matching Grant Program that is a step in the right direction for ending food insecurity and keeping our families and local economies healthy. AB 1321 would also leverage federal matching dollars so low-income Californians can afford to buy healthy fruits and vegetables grown in our state. I hope to count on Assemblymember __________'s support with an Aye vote when it comes up on the floor. Thank you for your time."
p.s. If they give you their position, feel free to update me (Justin)!
###
Policy Action Alerts Abound!
5/20/15 — Right now, there are action alerts out for two of ROC's policy priorities: the nutrition incentives budget proposal, AB 1321 (Ting; Nutrition Incentive Matching Grant Program) and AB 359 (Gonzalez; Grocery Worker Retention)! However, in keeping with the flow of this week's Pulse, I'd like to highlight a proposed federal rule that was mentioned during the CAFPC NorCal regional meeting last week in Crescent City.
During the panel on Thursday night that followed a screening of We Can't Eat Gold, one of four American Indian activists asked folks to support a proposed rule by the National Park Service that would "authorize agreements between the National Park Service and federally recognized Indian tribes to allow the gathering and removal of plants or plant parts by designated tribal members for traditional purposes." Comments must be submitted to the Federal Register by July 20, 2015 — you find more information about the rule here.
I strongly urge folks to consider this federal rule, especially if food sovereignty in our food system is something you want to deepen your understanding in or already feel strongly about. Food sovereignty, like equity, are terms that are subjective based on lived experience, ancestral histories, and place in the food system. The influence of policy in our nation's capitol on our ability to control our own food is objective, and the history and current practice of displacement of this land's sovereign peoples is no joke.
This federal rule that would allow plant gathering by American Indians on national park lands would be a small recognition that it was an existing cultural practice that natural resources should be managed for its people and for sustainability. And now U.S. society is rediscovering these values and desires for the food system, especially when it comes to identifying policies that would help achieve food sovereignty.
###
A Calorie is a Calorie. It's Just a Unit of Energy, Right?
4/30/15 — Half of Black and Latino teens are predicted to develop Type 2 diabetes in their lifetime. Liquid sugar is a unique cause of fatty liver disease, a metabolic consequence of an overworked pancreas that normally only occurs due to alcohol abuse, but is now showing up in children. Nutrition incentives across the U.S. and in California have shown that low-income folk do want to eat healthy fruits and vegetables and will do so if they can afford to. California spends less than any state on diabetes prevention at 3 cents per person. The Farm Bill, our tax dollars, subsidizes commodities like corn that is used for hyper processed products like sugar-sweetened beverages while specialty crops have to compete in a rigged free market.
How does this all interconnect? AB 1357, a 2 cents per liquid ounce fee on sugary drinks. In previous years, a fee on sugary drinks may have only interested the public health community based on where the funds were distributed. However, this coalition has worked to ensure that this bill's revenue would also acknowledge bigger food system issues, with a portion of these funds going to the Department of Education for Farm to School and also to CDFA for supporting specialty crop sales and nutrition incentive programs. Estimates show AB 1357 can generate up to $3 billion per year. If you think that's a lot, $24 billion is the estimated cost of diabetes in California per year.
I encourage you to take action today, for the public's health and for the opportunity it would bring to programs that many of us wish we had more funding for like Farm to School. It definitely won't be easy, as the industry killed SB 203 in Senate Health yesterday evening, which was the complementary strategy of labeling.
Last but not least, courtesy of Latino Coalition for a Healthy California, this graphic shows the preliminary results from Mexico's national soda tax, the first of its kind. Consumption of sugar-sweetened beverages went down, and it went up for other drinks like water, milk, etc. The beverage industry will cry foul for their bottom line, but in reality, these companies own almost all of these products (e.g. Coke owns Dasani Water), and this type of market consolidation is a whole other type of problem for our food system altogether.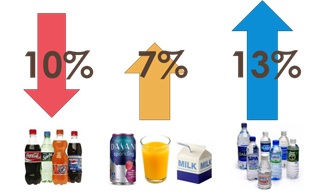 ###
Legislating for Healthy Soils, Working Lands & Mother Earth
4/22/15 — Happy Earth Day! As Michael mentions in today's Pulse of the Food Movement, there are multiple co-benefits to California's soil initiative efforts that began with a call to action from Governor Brown and CDFA Secretary Ross. In my post from March 26th, I highlighted one of these bills, AB 761 (Levine). Other bills are also starting to develop as California's legislative session ramps up (i.e. the deadline for a bill to get out of its house of origin is less than 2 months away on June 5th). In addition to Assemblymember Levine's bill there are a few others that have been introduced that are of interest because of their nexus to soil health:
I want to highlight SB 367, the bill authored by Senator Wolk (Davis) and co-sponsored by our allies in agriculture, CAFF and CalCAN. CalCAN successfully advocated for some of California's cap and trade funding to promote more sustainable farming in California. This was no small feat and the team at CalCAN deserves some big props. CalCAN is continuing the good fight for more sustainable farming (and a healthier earth) via SB 367, and I encourage you to learn more about this bill and how to support it here.
Hopefully, with continued interest in and support for legislative proposals from California's state Assemblymembers and Senators, our food system can become an integral component to ensuring that our species can celebrate Earth Day over the next millennium.
Last but not least, Friends of the Earth reminds us to speak out in support of the recommendations made by the most recent U.S. Dietary Guidelines Advisory Committee, which asked us to consider sustainability as part of our diets. It is historic and as such, is under attack from those who wish to maintain the status quo in our food system under complaints that this committee needs to focus on nutrition only, as it has done in the past. It's time for us to look at our diets based on the foods we eat, not based solely on the nutrients they contain. In doing so, perhaps we can move food and agriculture policies that simultaneously support growers, the people who rely on their food, and this one-of-a-kind plant we've been taking for granted.
###
Thirsty for Water & Hungry for Nutrition Incentives
4/8/15 — Governor Brown signed Executive Order (EO) B-29-15 on April 1st mandating 25 percent water reductions in California. No April Fools joke here. You can watch ABC's interview with Gov. Brown at the bottom of this post, where he defended the challenges faced by growers and the drought's linkage to climate change. We agree with Gov. Brown and also believe that an all-in solution that serves the common good requires reformation of water rights, water pricing and water allocations. Unlike the Sustainable Groundwater Management Act of 2014, sustainable water use in California needs a more rapid timeline than 2040 given this historic drought.
We're all in this together. Urban and rural alike depend on water to support the food system, which provides us with food, jobs and agricultural land uses that are critical to climate mitigation and adaption. As you would expect, water is a big issue again this year in Sacramento, and a keyword search in LegInfo shows almost 300 bills have been introduced on the topic, with varying degrees of impact.
And while the state Legislature has enacted emergency drought relief of $1 billion, the USDA also announced on April 1st that California will receive approximately $4.2 million dollars from the first round of Food Insecurity Nutrition Incentive (FINI) applications. This is also historic and represents the federal government's acknowledgement that SNAP (i.e. CalFresh) can be leveraged to support healthier eating through nutrition incentives. Ecology Center received one of the largest matching grants nationally for Market Match, a program we founded in 2009; validating the years of evidence-based success this program creates for low-income consumers, small- and mid-sized growers, and the economy.
I also want to highlight that the largest FINI grantee from the first round was the Washington State Department of Public Health, at almost $6 million! Unfortunately, that's not CDFA topping the list, but it does provide precedent for the statewide Nutrition Incentive Matching Grant Program that we are trying to enact in California via AB 1321. With only 3 of 5 years of FINI funding remaining, the pressure is on our Legislature to pass AB 1321 and to support our budget request without further delay. If your organization or an allied organization based in California wants to support, I urge you to submit a letter of support today!

ABC Breaking US News | US News Videos
###
How Farms Can Fight Climate Change
3/26/15 — On Thursday, March 19th, Assemblymember Marc Levine (San Rafael) hosted a legislative briefing in the capitol titled: How Farms Can Fight Climate Change: "Carbon Farming" and Sustainable Agricultural Practices to Reduce CA's GHGs. If you're not a climate nerd like me, GHGs stand for Greenhouse Gas Emissions, and represent the cornerstone of our state's cap-and-trade system established by the California Global Warming Solutions Act of 2006 (i.e. AB 32). The agenda included presentations from the Carbon Cycle Institute on the Marin Carbon Project, CalCAN on the broader toolbox of sustainable agriculture strategies and the California Cattlemen's Association on the economic challenges of their constituents given climate change and the current drought. In short, it's all about soil health and how healthy soils have a lot of co-benefits, not only for the environment but also for growers and ranchers via improved water retention, greater yields, etc.
Assemblymember Levine also used the briefing to debut his bill, AB 761, which would establish a grant making program within the California Department of Conservation, "to fund projects that increase carbon sequestration in agricultural soils, improve soil water retention, and increase the resilience of working lands to climate change and drought." ROC supports the bill in concept and is engaging the author's office to learn more about the specifics, intent and will follow this bill as session continues.
AB 761 is exciting, and it represents the Legislature's response to Governor Brown's interest and CDFA Secretary Ross' leadership in framing the opportunity for California's working lands to be a part of the climate solution, and how our soils can sequester atmospheric carbon in addition to growing food and fiber. Other related climate and/or soil health bills have been introduced via SB 367 (Wolk), AB 1045 & 1247 (Irwin) and AB 876. Some of these bills don't reflect the final language of what legislators are proposing, but that will change soon as committee hearings ramp up, especially once members return from Spring Recess on April 6th. It's the international year of the soils and it's definitely a hot topic right now in the halls of Sacramento!
###
CAFPC's 2015 policy work group is up and running!
3/18/15 — On Monday, March 16th, Roots of Change convened the 2015 policy work group (PWG) for CAFPC's annual legislative report on food and farming! We welcomed new members as well as veterans to the process who have been instrumental to previous reports. The PWG discussed 18 bills by the end of the meeting, voting on which ones should be tracked for CAFPC's 2015 report and which ones should not. We have two more meetings to go, one in April and May, and by the end of the process the PWG will have produced its list of 10-15 bills for the CAFPC.
Here are the participants from Monday's meeting, who comprise a mix of CAFPC members and external statewide policy experts in issues ranging from public health, agriculture, immigration, and more:
Ashland Cherryland Food Policy Council, Berkeley Food Institute, CCOF, California Center for Public Health Advocacy, California Center for Rural Policy, CalCAN, California Immigrant Policy Center, Community Food Council for Del Norte & Adjacent Tribal Lands, Community Food & Justice Coalition, Ecology Center, Friends of the Earth, Interfaith Sustainable Food Collaborative, Latino Coalition for a Healthy California, Mendocino Food Policy Council, Oakland Food Policy Council, Orange County Food Access Coalition, Plumas-Sierra Community Food Council, PolicyLink, Public Health Institute, Sacramento Region Food System Collaborative, San Diego Food Systems Alliance, San Francisco Food Security Task Force, San Francisco Urban Ag Alliance, San Mateo Food System Alliance, Santa Barbara Food Alliance, Slow Food USA, SPUR, and Sustainable Economies Law Center, T&D Willey Farms.
In other news, California's legislative session is about to ramp up. While the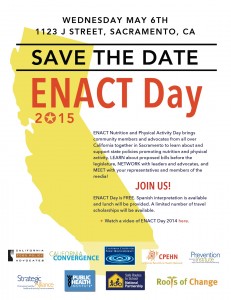 budget process has already been in full swing since January, policy committee hearings will begin, right before the Legislature adjourns for spring recess from March 26th to April 5th. When the legislators come back on April 6th, things will really get going and hundreds of bills will start moving through policy committees or die in the process. If you want to meet your rep, recess is a good time to try and meet them at their district office near you! If you want to meet your legislator in Sacramento, save the date for ENACT Day!
###
AB 1321 introduced, and endorsed by the CAFPC!
3/4/15 — The California Food Policy Council voted to support AB 1321, which was originally introduced by ROC in 2014, and its respective budget proposal at its winter statewide meeting! This is a historic moment because it is the first time the CAFPC has voted to take an official position on legislation or a budget proposal, and makes sense considering all the co-benefits associated with nutrition incentives for low-income consumers who receive public benefits like CalFresh. AB 1321 was introduced last Friday with Asm. Ting (SF) as lead author, Sen. Wolk (Davis) & Asm. Bonta (Alameda) as principal co-authors, and Asm. Levine (San Rafael) & Perea (Fresno) as co-authors. All of these co-authors, and other legislators who are supportive but haven't signed on as co-authors yet, are thanks to a significant amount of grassroots support from all over the state, including CAFPC's capitol visits on February 10th where members had over 30 face-to-face visits in the building!
In addition, AB 1321's parallel budget proposal was in front of the Assembly Budget Sub-committee 1 (Sub 1) as part of a CalFresh panel on February 25th. Unlike budget change proposals that come out of the Governor's Office or from a state agency, advocates' proposals must be heard in a budget sub-committee hearing to be part of budget negotiations, hopefully to show up in the "May Revise." ROC's testimony was well received by the chair, Asm. Thurmond (Richmond), who wants to learn more about the budget proposal supported by Ecology Center, Hunger Action LA, Latino Coalition for a Healthy CA,  Public Health Institute, San Diego Hunger Coalition, and over 100 other organizations. As the legislative and budget processes continue to ramp up, please keep an eye out for action alerts in support!
Also, in our nation's capitol, the National Farm to School Network and the National Sustainable Agriculture Coalition have introduced bipartisan legislation to boost funding for USDA's Farm to School Grant Program and to include new equity provisions that would strengthen getting local food into school meals. If you want to see more funding for Farm to School efforts and support beginning, veteran and socially disadvantaged farmers and ranchers, you can read more here. Full disclosure, ROC is an NSAC member.