ROC Releases CAFPC 2013 Legislative Report
January 8, 2014
Roots of Change
First-Ever Report on California Food and Farming Legislation is Released
California Food Policy Council and Roots of Change push elected officials for food systems reform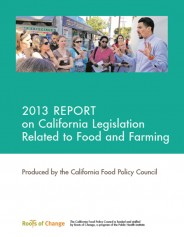 OAKLAND, CA (January 8, 2014) – A report released today by Roots of Change and the California Food Policy Council (CAFPC) for the first time tracks food and farm policy voting records by the California Legislature.  The 2013 CA Legislative Report Related to Food and Farming brings to light how the Golden State's legislature is missing a golden opportunity: that fixing California's food and farming challenges will dramatically improve our state's most serious health, environmental and economic problems.
Food system reform is imperative, yet ranks low on the Congressional policy agenda, as evidenced by the tortured action on the Farm Bill and other pressing policy matters. This national stalemate sets the stage for today's CAFPC report to stand as both as a historical record of CA legislators' food system votes in 2013 and a tool for local food and agriculture reformers in their advocacy efforts. Roots of Change, a program of the Public Health Institute, spurred the report's development by bringing together an unprecedented number of diverse stakeholders ready to drive their local officials toward positive action.
The report analyzed 27 bills of critical importance to food system reform. Of those, only 11 made it out of Committee and on to floor votes. Five of 10 of CAFPC's highest priority bills were signed by the Governor, a gratifying result in the first year of tracking. These include bills that grant immigrant food system workers driver's licenses rights (AB 60); increase food access via CalFresh participation (AB 191); provide property owners a tax incentive for allowing urban farms and gardens (AB 551); and improve the viability of small farms (AB 224).
But given the importance of food and farming sectors to the health of California's economy and communities, there are many more policies of broader scope and impact that require the Legislature's attention in the year ahead.
"As a chef, a Sacramento food activist and a parent, I join others from across the state in asking the CA Legislature to prioritize investment in our food and farming system,' said Brenda Ruiz, Steering Committee Member, California Food Policy Council. "Even in a state with so much agricultural bounty, and a focus on healthy eating, I still struggle to afford top quality produce for my own family's table.
For the first time in the state's history, 19 community organizations and policy experts, representing every important food and agricultural region from Humboldt to Oakland to San Diego, have joined together to push for food system reform under the banner of the California Food Policy Council. Despite California's position as the nation's most important agriculture state and the epicenter for sustainable food trends, no cohesive group of California community organizations and policy experts had ever been successfully created until now.
Michael R. Dimock, President of Roots of Change and strategic advisor to the CAFPC, said "The CAFPC calls upon elected officials to create a healthier and more resilient food system: its members want more and better bills generated, more bills supported, and more funding for under-resourced sustainable food production. Weather events, diet related disease, worker safety and opportunity, and agricultural pollution must be addressed. The CAFPC believes all parts of the food supply chain, from farm to table, must be engaged."
With this report, ROC and the CAFPC alert statewide elected officials that a determined new constituency will be asking for their leadership.
About Roots of Change
Roots of Change is a 'think and do tank' dedicated to developing a CA food system that is healthy, diverse, profitable and fair. Since 2006, Michael R. Dimock, President, has grown ROC into a resource for the food movement, creating collaborations between agriculture and NGOs, community organizations and policy experts that have never before sat together in the same room. ROC's 2007-11 Fellowship Program nurtured young food system leaders who, as entrepreneurs, advocates, and farmers have today become the bedrock of the good food movement. At Slow Food Nation in 2008, ROC convened the first Changemakers Day for 600 food system leaders. ROC then launched the first Urban-Rural Roundtable to develop "foodshed" policies for the City and County of San Francisco. A national leader on food and farm policy, ROC's work on Farmers Market nutrition incentive programs influenced Michele Obama's Let's Move campaign in 2010. Since 2012, ROC has served as the backbone of the California Food Policy Council, a statewide collaboration of 19 diverse food system reform groups that launched CA's first-ever analysis of food and farming legislative policy in January 2014.  Today, ROC's network includes 80,000 followers via social media and other activities and reaches a national audience via Dimock's writing on CivilEats.com.  Based in Oakland, CA, ROC is a program of the Public Health Institute. Facebook: Roots of Change. Twitter: @RootsofChange